Residential & Commercial HVAC Contractor in Stockton, CA
Residential HVAC has evolved over the years to involve much more than mere temperature control. Now homeowners have a suite of options for indoor comfort control including whole home humidity, zoning, remote access thermostats, air purification and more!
Queirolo's is a Stockton air conditioning contractor dedicated to enhancing the level of indoor comfort control for our California residential customers.
With Queirolo's you get a Stockton residential HVAC contractor who understands that your requirements are truly unique. We don't just sell you a piece of equipment or rattle off answers without taking your needs into account. Queirolo's technicians provide recommendations specific to your home for cost effective and efficient air conditioning, heating and indoor air quality options resulting in a healthier, more comfortable home!
Stockton Commercial HVAC Contractor
Your business relies on an economical and robust solution that will provide reliable performance and high operating efficiency. We understand the demands of commercial HVAC applications, and have the technical experience required to provide you with superior design build and installation services. Additionally, we are backed by York®, a multi-billion dollar company based on technical innovation and business relations in the market place.
California Design Build & Installation
Every business is different. Even the same business in different locations has varied needs. We know that a department store differs greatly from a grocery store in its HVAC requirements. Even if you try to establish a high degree of standardization throughout your buildings, you need a California contractor who can help combine standardization with a sound understanding of different applications. Each of our jobs is different, yet each builds on the expertise we have acquired over our years of service.
Properly designed systems achieve higher performance levels and efficient operation. Conversely, a poorly designed system will affect load capabilities and running costs. You can rely on our commercial design build services to calculate things like part-load efficiency, unit placement and system flexibility, providing you with ideal recommendations for your specific requirements. We execute commercial HVAC installations according to code resulting in a reliable, high performance solution.
Preventive Maintenance
Queirolo's provides our Stockton customers with extensive preventive maintenance plans. A commercial heating, cooling and ventilation system is no different than any other equipment: it requires attention to maintain peak running efficiency and performance levels. Queirolo's preventive maintenance plans cover everything from tune-ups to seasonal preps and routine filter changes. Avoid the downtime and costly repairs associated with a neglected system by entrusting us with the ongoing care of your investment!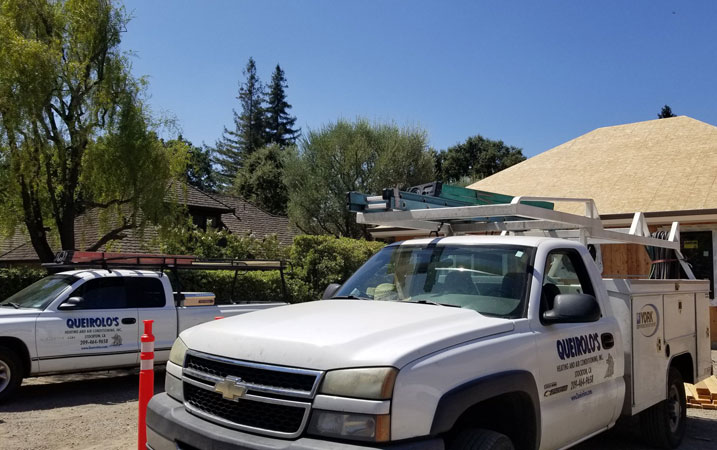 Ashley M. - Stockton, CA
I can not say enough good things about this company!!! They truly are super helpful and attentive and they know what they are doing. From the moment of having to contact Stacy in the office to get us scheduled and on their books to when Tony arrives it is always more than satisfactory service. Tony knows the ins and outs of the units and when he explains things to you, you feel confident because he knows exactly what he is talking about. Highly recommend this company for both commercial and residential needs !!!